... everybody who visits our website:
... jeden, der unsere Website besucht:
Dear Visitor, we are happy to have you with us. The ShopArt website is "hand knitted". -
If You find some bugs or inconveniences, please let us know.
---
Lieber Besucher, wir freuen uns, dass Sie uns gefunden haben. Die ShopArt-Website ist handgestrickt. Sollte noch irgendetwas klemmen oder zu verbessern sein, bitte geben Sie uns Nachricht.
---
Wo findet man was ?
Falls Sie Künstler sind und bei ShopArt virtuell ausstellen möchten, finden Sie weitere Informationen, wenn Sie hier klicken.

---
Kunst-Verkauf nach Nigeria, London oder Canada - Vorsicht !
Art sales to Nigeria, London or Canada - be cautious !
Unten Korrespondenz, die zeigt, wie so etwas funktioniert und mit Sicherheit daneben geht:
Below some e-mails showing up, how things proceed and for sure go wrong:
Hello Artist, I came across your artwork on ShopArt. I'll like to buy this artwork for my gallery, let me know the price and I'll add 200 Euro for shipment . My gallery is located in Africa and I showcase different type of art work, abstract , sculpture , drawing and paintings. I sell artwork after buying them, the name of my gallery is "OCEAN VIEW". If you selling this piece let me have your information for payment transaction e.g full name , address and phone (mobile) number so my PA can process your payment through agent who will issue EUR check out to you. I await your reply. homelandagroup@hotmail.com , Annie Thomas, October 2007
Dear Artist, Thanks for your mail. I am a local seller based here in Nigeria. I am not online and I hope that is clear. What I do is , I buy artworks and put them in my gallery where I sell them. Interested buyers e.g banks, house owners, real estate agent representatives come around and buy for office and home decoration. I hope my job is clear to you. I believe your painting will sell well here. That is the reason why I want to buy it and promote your work and nothing else. I buy and sell and make profit - you understand. When you've received my payment kindly ship the artwork to my gallery address via DHL. 15 Tomori Avenue. Challenge , Ring Road , Ibadan. Nigeria. Kindly send me your details e.g full name, address and phone number so the check could be processed. For your Paypal-proposal: I don't know anything about Paypal since they don't function in Africa. I will confirm to you when the payment has been sent. Regards, Annie Thomas
Dear Artist, The payment for the artwork has been processed and the check mailed out to you yesterday. You will receive it within the next 10 days, but there was a mistake on the payment: My accountant who processed the payment made a mistake and issued out the sum of 3,500 Euro which was meant for another customer to you instead of 500 Euro. I don't know, maybe he had a problem with his understanding. I contacted the bank who issued the check for the cancellation, but was told 10% cancellation fee will be applied towards the fund, which means I'll lose 350 Euro. After considering this I suggest when you receive the check, cash it, deduct your payment of 500 Euro, and send me 3,000 Euro back. Kindly send the rest of the fund back via Western Union, they only charge 5-7% compared to the 10% charges by the bank. I hope you'll be able to do this. Your artwork is a great piece. Kind regards, Annie Thomas
Der Scheck, der zumeist kommt, wird von der hiesigen Bank in der Regel akzeptiert und als Pluseingang verbucht. Kurze Zeit später stellt sich jedoch heraus, dass der Scheck ungedeckt ist bzw. ein dort genanntes Konto nicht existiert. Der Geldzugang wird folglich wieder storniert. Fatal, wenn das Kunstwerk bereits verschickt und der Geldüberbetrag per Western Union (!!) zurück überwiesen wurde.
---
Hier eine andere Version vom Januar 2008 / Here another version of Jan. 08:
From: Sarah Mosley (sa.mosley1

yahoo.com) Subject: Artwork Purchase
Hello Artist, I will like to purchase these selected artworks for my home collections: ..... Kindly get back to me with any additional informations regards the work and the total price of the works selected excluding the shipping and handling as I will use my private courrier account to pick it up from your address, also on how you will like to complete the transaction as soon as possible. Sarah

Hello, I will be glad to proceed with the transaction and you can send me the following informations to complete the deal: Your business procedure is welcomed and I don't have any problem with that.-
Name on Check | Address(Full postal address) | Home and Mobile phones
I will notify you once the check has been mailed out and the courier will call you to arrange the best time to pick up the artworks. Thank you for your understanding, Sarah

Dear Artist, I'm very sorry for the lack of update regards the purchase of your artwork. This is because of the new environment I just find myself, knowing it takes a little time to adapt to places. I will pay with a Europe money order or check. However, I will send you an email confirming the payment has been sent to your provided address and you can be on the look out for it. Please, keep my artwork packaged and ready for pick up as soon as you receive the payment. Once again thank you for your cooperation and understanding. Best wishes, Sarah
---
Und hier eine neue Version vom Jan. 2012 / Here a new version of Jan. 2012
Sender: Robert Power, London, mailto:robertpower001@gmail.com
Re: Aquarell 1, 60 x 50 cm and Aquarell 2, 50 x 60 cm
Do you still have this item for sale?
Thanks for the message, I am very happy to know that the watercolours are still for sale. I must tell you that my wife was stuffing through the net now and she saw your good artwork and she is very much interested in the immediate purchase because she need it for our new apartment.
I will like to to buy it before someone else grap it and I will pay you securely with a Bank cheque which will be payable to your name and I will wait till it clears your bank before the pick up. This is because I will be traveling out of the country any moment from now for a business proposal. So get back to me with the information needed to send you the payment, i.e. Full Name, Standard Address, Cell Number, Total Cost.
So that i can proceed in the payment arrangement and relay it to you asap. Kindly remove the listing from sales and consider it sold get back to me asap with needed information. Thanks once again and I await Your quick response. Robert Power
Dear Artist, how have you being? Hope everything has been going on fine with you. Well, I just want to tell you that I am very glad that the cheque has been deposited in your bank. Anyway the check will take 2-5 working days to cleared your bank, deduct your own money for the watercolurs 1.600 Euro. As soon as you have the cheque cashed and kindly help me send the remaining balance in cash as a stated before! to my shipper who would be coming over to your place for the pick up of artwork including all my properties left in Germany.
Meanwhile, I spoke with my shipper right now and he said, it will be more better sending the money through WESTERN UNION MONEY TRANSFER TO THEIR HEAD OFFICE because he can easily receive the funds in a WESTERN UNION AGENT OFFICE beside his office and he is as well ready to come for the pick up between 4-5 PM your time on Tuesday next week as soon as you forward the funds to him earlier, hope that works for you? I therefore offer you a token amount of 50 EURO for your honesty and any inconveniences this may cause you, Hope this help also?
Here is my shipper's information to send him the funds: John Christopher, 302 Mare Street, Hackney, London, E8 1EJ, UK
WESTERN UNION charges will be deduct from the Shipper money NOT from your own money ok. Please get back to me to let me know as soon as you get it done... So that we can proceed asap... Thanks and I'll await your response, Sincerely, Robert Power
Zum Glück stellte die Bank sofort fest, dass der Scheck eine Fälschung war. Außer Zeitverlust entstand dem Künstler kein weiterer Schaden.
Fortunately the German Bank found out at once, that the cheque was a fake. So - except of a loss of time - no damage was done to the artist.
---
Und hier wieder zwei neue Fälle aus Canada, von denen mir Suzanne von Wallenberg und Stefan Kotthaus berichteten. Der "Käufer" (vermutlich immer der gleiche) schickt einen Abhol-Spediteur, der bei Entgegennahme der Bilder einen ungedeckten Scheck herreicht.
Von Raymond Deen - raymonddeen

yahoo.ca - Juli 2012
und von Timothy Jepson, jepsontimothy

yahoo.ca - Oktober 2012
---
E-Mail-Adressen und Spam-Schutz
ShopArt erhielt täglich bis zu 200 Spam- und Viren-Mails. Von denen konnte unser Mailfilter und der Norton Antivir etwa zwei drittel finden und löschen, aber es blieben immer noch genug übrig, um unseren Briefkasten zu verstopfen. Auch gelang es Spammern immer wieder, Mails mit unserem Absender ...

shopart.com zu versenden. Dies führte dazu, dass der Name "shopart" von Google und anderen Diensten als Spam klassifiziert wurde und im Spam-Ordner des Empfängers landete. Wir haben daher unsere Mail-Adresse geändert, sie lautet nun nur noch shopartcontact

gmail.com
Wie man wohl erkennen kann, ist das

nicht ausgeschrieben sondern nur als gif-Bild zum Text gestellt. Kleiner Nachteil: Das Outllook-E-Mail-Fenster geht nicht mehr automatisch auf.
Spam Spyware jedoch kann auch diese Adresse nicht erkennen und aus dem Web heraus einsammeln. Daher das Ergebnis: Es kommen kaum noch Spam-Mails an. Dies wird aber nur so bleiben, wenn man vermeidet, uns freundliche Webmail-Postkarten zuzuschicken, denn hierdurch werden in der Regel auch Adressen für obscure Datenbanken eingesammelt. Ähnlich kann es übrigens auch sein mit Emaileinträgen in Gästebücher und Newsgroups. Diese Email-Schreibweise ist übrigens auch bei allen ShopArt-Künstlern zu finden.

---
ShopArt Namensschutz / ShopArt name protection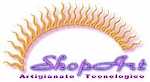 To whom it concerns / May 28th, 2000
Dear Website-Owner, when I founded our artists club in 1992 and called it "ShopArt", people considered it funny, writing the words "Art" and "Shop" in wrong combination. In the meantime "shopart" seems to make sense, as it will be taken more often now from people without any own URL name creativity.
Here in Germany it was easy for me to stop stupid plagiarism, as I protected the name "SHOPART" by law as Registered Trademark. Internationally I could not do the same, as it would have cost far more than 1000 $ US; money we could do better things with. And in the meantime even in Germany we just let things pass by now, as lawsuits against it may cost another furtune.
Anyway, I tell you this, as I think it is not very intelligent, creating new shopart clones on internet, even with tricky wording variations like "Shop-Art", "ShopArts", or "shop.art". - Asking most search engines now for "shopart", it normally comes up beginning on number one position with 5 - 100 proposals, nearly all directing to shopart.com - please check it out. If this makes you feel fine about your own planned shopart activities I wish you good luck. Sincerely, Igo Kirchlechner

---
Ausstellungs-Angebote per Post oder E-Mail
Im Gegensatz zu manchen Internet-Künstlerdiensten und Web-Galerien, die oft provisionsabhängig arbeiten und schon daher Verkäufe kontrollieren müssen, ist bei ShopArt die Künstler-Adresse ausgedruckt. Dies hat den Vorteil der direkten Kontaktaufnahme Kunde - Künstler. Hat aber auch den Nachteil, daß mitunter dubiose Angebote übers Internet auf die vermeintlich doch recht blauäugigen Künstler einflattern. Besondere Vorsicht ist geboten bei schmeichelhaften Einladungen zu Kunstmessen und Biennalen, z.B. Florenz, hierzu siehe auch www.artbusiness.com. - Eingaladen wird alles und jeder, verlangt wird viel (Florenz 2.250 € + MWSt.), geboten wird wenig. Gewinner ist nur der Veranstalter, der sich Profit in astromonischer Höhe ausrechnet. Besteht dennoch Interesse, zuerst nach den definitiven Gesamtkosten fragen, (Klein-) Gedrucktes verlangen und nichts im voraus verschicken. Für die Vorab-Information haben unsere Künstler ihre Internet- Präsenz, und die dürfte im Regelfall für Entscheidungen ausreichen. Mitunter ist es auch sinnvoll, beim Verein zurückzufragen, wer sonst noch ein spezielles Angebot annehmen möchte. Gemeinsam lassen sich dann oft bessere Konditionen aushandeln als solo. - Dies ist nun der Fall für die Biennale Izmir 2013: Die Teilnahme- Gebühr für ShopArt-Künster ist 700 Euro. Anmeldeschluss ist der 1.9.2012.
Mehr und Ausführlicheres zum Thema finden Sie auch hier.
---
Abraham Lubelski, Herausgeber des "New York Arts Magazine" und Inhaber der "Broadway Gallery in NYC" sowie der Galerie "Beijing Arts Space", bietet seit Oktober 2011 vielen von uns seine Dienste an. Dabei nimmt er meist ganz gezielt auf ein Kunstwerk des jeweiligen Künstlers bezug, das er bei uns im Internet gesehen hat, und das er besonders lobt. Für einen Betrag von 1.900 Dollar US bietet er scheinbar recht viel. Jedoch Vorsicht ist geboten! Mehr hierzu siehe www.helenansell.com.
Und so sieht dann seine E-Mail aus:
Dear Max-Wolfgang, I am pleased to inform you of an exciting opportunity to join an international publicity program based in New York City as well as exhibition in Broadway Gallery in SoHo, New York City.
My name is Abraham Lubelski, the publisher of New York Arts Magazine, and owner of The Broadway Gallery in NYC and Beijing Arts Space in China. I would like to invite you to join our publicity program that includes an exhibition in New York City in "Orbs unterwegs" (eines von Max' Bildern) and I believe it would be an important addition to our program. This work is dynamic. The colors the vibrant. They create a different world, eerie and foreign. By paying close attention to the intuitive works of each artist, we are hoping to construct an exhibition of works that truly speaks to our viewers and subscribers.
With this program you will get one year of publicity, full page in NY Arts Magazine (sold worldwide in major bookstores), an exhibition in the heart of NYC, in Broadway Gallery, a spread in Art Fair International Newsletter along with a year subscription, for a cost of $1,900. This is a media driven event and offers both emerging and established artists the broadest media coverage possible.
Abraham Lubelski, Publisher NY Arts Magazine, abraham

nyartsmagazine.com